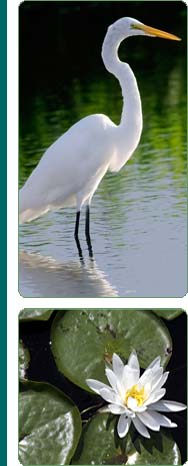 Progress doesn't come without a price. Too often, it comes at a tremendous cost to our environment. That's why federal and Florida state laws require government agencies, commercial land developers and private property owners to create or restore an equal amount or value of wetland function for every acre affected by their development. This wetland mitigation is designed to balance the impact that our growth has on the natural world around us.
Wetland mitigation can either be done within the development, or at an off-site location. To make things even easier, responsible parties can forego the cumbersome and costly mitigation process by purchasing "credits" from an approved wetland mitigation bank—saving the time, overhead, and liability associated with maintaining a private mitigation site. Purchasing credits also maximizes the amount of usable and profitable land in a development.
For land to qualify for this credit program, it must be permitted by both the St. Johns River Water Management District and the US Army Corps of Engineers. With this permit is a plan to restore, enhance and preserve wetland functions (e.g., fish and wildlife habitats, water treatment and waste assimilations, groundwater recharge or flood control) on the mitigation bank property.
The St. Johns River Water Management District has deemed each mitigation bank operated by EH Mitigation Providers, L.L.C. as regionally significant.