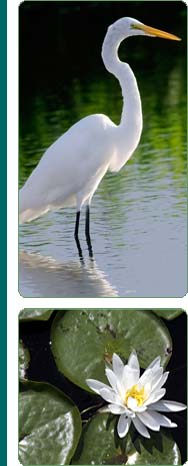 Q. Why should I purchase credits from EH Mitigation Providers?
A. We can help you save the time, overhead and liability associated with maintaining a private mitigation site. Purchasing wetland credits from us maximizes the amount of usable and profitable land in your development. And mitigation banking typically offers substantial cost savings by eliminating long-term monitoring, maintenance, security and compliance requirements.
Q. How do you determine the number of mitigation credits I need?
A. EH Mitigation Providers does not determine the number of credits needed. That number is determined by state and federal agencies.
Q. Who are the district, DEP and Corps?
A. The "district" refers to the St. Johns River Water Management District, and the "DEP" refers to the Florida Department of Environmental Protection. These are the state agencies that would require wetlands to be mitigated. The "Corps" refers to the U.S. Army Corps of Engineers, which is the federal agency.
Q. How long is the reservation for?
A. We have a reservation period of 6 months.
Q. When do the mitigation credits have to be purchased?
A. The credits must be purchased at the end of the reservation period or when the state and federal permits are approved, whichever comes first.
Q. Will EH Mitigation Providers have credits available for me when my permits are approved?
A. The best way to ensure credits are available is to reserve them before the permit approval process.
Q. How much do the credits cost?
A. The cost varies depending on which mitigation bank is used.
Q. Is a down payment required to make a credit reservation and if so, how much will it cost?
A. EH Mitigation Providers makes mitigation credit reservations usually with a down payment of 10%. Contact us for complete details.
Q. Can a purchase be for less than one credit?
A. Yes, we sell credits as small as 0.01.